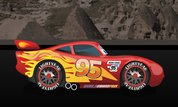 Play Now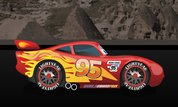 Unfortunately Lightning McQueen Dress Up is not available on your device. Please try one of the related games instead or visit our HTML5 category.
This Flash game is loaded using an emulator. If you notice any glitches(such as the game getting stuck or music/sound missing), click to play the original version with NuMuKi Browser for the best experience.
About Lightning McQueen Dress Up Game
Lightning McQueen is not only a fast racecar, but he is also a fancy racecar. He needs to look his best all the time to be on the cover of all the race magazines. If he looks good, the world will love him, and this is all that he wants. Fame and lots of recognition. To help him become more famous than he already is, try this new Lightning McQueen Dress Up game, where you have to prepare McQueen for a great race.
Start from changing the wheels the way you like and then the whole car. Choose different windows tint and various paints for the vehicle. You can play with all kind of things and bring Lightning McQueen to a transformation that not even he will recognize who he is.
Design the best outfit for Lightning McQueen
When you finish with the entire look, you can start the race and help Lightning McQueen be fast on his way to victory. If you thought that only girls love to dress up, then you are wrong because Lightning McQueen loves to change styles and looks and he likes to try different things to see if they fit him well.
So do not wait any longer and start creating a brand new look for your favorite racecar that has ever existed. Be sure that only with your help McQueen will manage to become more famous and show everyone that he is not only fast but also good-looking. We know for sure that you are going to enjoy it and have lots of fun!
If you enjoy playing Lightning McQueen Dress Up, you might be excited to find out that there are 28 more Disney Cars games you can try! The most popular is Lightning McQueen's Desert Dash, and the most recently added is Disney Cars Jigsaw