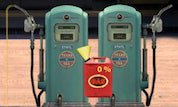 Play Now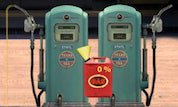 Unfortunately Flo's V8 Cafe is not available on your device. Please try one of the related games instead or visit our HTML5 category.
About Flo's V8 Cafe Game
Flo is one of the most important cars from Radiator Springs. You can say that without her, there will be no life in the small town because she is the one who is getting gas for the cars and without her gas the vehicles would not work. To deliver the gas, she has a nice cafe where everybody goes for a fill in. In Flo's V8 Cafe game you will need to help Flo providing the fuel, which is quite essential to every car from Radiator Springs.
Do not panic! Working at a gas station is not going to be a hard thing to do. However, you need to be very fast because if the time runs out the cars will run out of gas, and you will lose.
Fill the fuel tank as fast as possible
Using your mouse move the can from one flowing gas pump to another but be quick. When it is full, get it over the empty tank to add the gas and fill it. You will have to do this thing a few times to get the tank full. Remember that the time passes fast, and it would be a shame if the cars will remain without the precious fuel.
If you manage to fill the tank, Flo will be forever grateful for your help, but you can try anytime to do this at a better time. If you do not manage to fill the tank from the beginning, do not worry because there are other tries too. Just do your best to help Flo, and everything will be fine!
If you enjoy playing Flo's V8 Cafe, you might be excited to find out that there are 28 more Disney Cars games you can try! The most popular is Lightning McQueen's Desert Dash, and the most recently added is Disney Cars Jigsaw