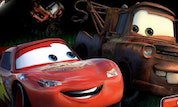 Play Now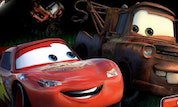 Unfortunately Tractor Tipping is not available on your device. Please try one of the related games instead or visit our HTML5 category.
About Tractor Tipping Game
Lightning McQueen is now trapped in an unknown city, far from home and with no one next to him. Except for his loyal friend Mater who wants to show him how to have proper fun in Radiator Springs. Even if at the beginning McQueen is a little bit scared, he starts to love this place and the cars from there. Today he decided to let Mater have fun with him, and that is why they go on a Tractor Tipping game adventure.
You can have fun with them too, and all you have to do for that is just some easy steps. Help Lightning McQueen tip as many tractors as he can by pressing the space-bar. At the same time, be fast because Frank the Bull is following you and you have to do anything in your power to avoid being caught.
How to play the game
Using the up and right arrow keys at the same time will help you to jump in the air. When a bay bale comes your way, just drive through it to gain more points. For each tractor tipped, you will receive five hundred points and for each bay bale that you drive through you will get one hundred points.
When you finish the road and get to Mater, you will be safe. You will be able to see your final score at the end of the game and if you decide to play again and beat your own score that would be great.
So, what do you say? Are you ready for some great fun together with Lightning McQueen and Mater? They have already started feeling great, so you should join them!
If you enjoy playing Tractor Tipping, you might be excited to find out that there are 28 more Disney Cars games you can try! The most popular is Lightning McQueen's Desert Dash, and the most recently added is Disney Cars Jigsaw