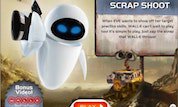 Play Now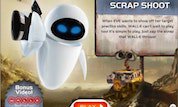 Unfortunately Scrap Shoot is not available on your device. Please try one of the related games instead or visit our HTML5 category.
This Flash game is loaded using an emulator. If you notice any glitches(such as the game getting stuck or music/sound missing), click to play the original version with NuMuKi Browser for the best experience.
About Scrap Shoot Game
Exercise your shooting skills together with Wall-E and Eve in Scrap Shoot game!
WALL-E and EVE are having a workout somewhere at the waste-covered Earth again. How does it feel, if you had been left all alone hundreds of years ago at an abandoned planet? A long time ago, this place was full of green life, now it looks more like an endless rubbish dump.
Actually, it is. Earth turned into a lifeless place since the human race destroyed its nature and left it set off to the outer space. WALL-E, a small old-fashioned robot-cleaner, was the only one left behind. He used to spend his lonely days walking around bunches of trash and searching if there is some interesting stuff to collect.
One day he met EVE. EVE stands for Extraterrestrial Vegetation Evaluator, and she was sent to the Earth with a special mission: to ascertain if any life signs still exist on the Earth! Unlike WALL-E, EVE is a super professional robot, she's perfect in performing her task and also dangerous.
Apart from their daily responsibilities that the two friends have to carry on, they are also trying to make their free time as pleasant as possible. One of the EVE's favorite leisure activities, for instance, is aiming and shooting at various things! EVE loves to show off her shooting skills and would never miss a chance to practice her target abilities. Join her and WALL-E in this game!
WALL-E will be throwing up some pieces of trash that EVE should shoot with a laser ray. Move the mouse to point at them and fire as they fly through the air. The more objects you hit, the more points you score! New items are added on each level, so you will not feel bored. Make sure you read the instructions and get additional tips before you start out!
If you enjoy playing Scrap Shoot, you might be excited to find out that there are 14 more WALL-E games you can try! The most popular is Trash Tower, and the most recently added is The Video Game