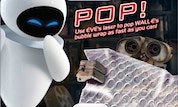 Play Now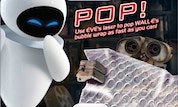 Unfortunately Pop! is not available on your device. Please try one of the related games instead or visit our HTML5 category.
This Flash game is loaded using an emulator. If you notice any glitches(such as the game getting stuck or music/sound missing), click to play the original version with NuMuKi Browser for the best experience.
About Pop! Game
Wall-E and his friend EVE are trying out their precision skills while maneuvering the laser beam. In Wall-E: POP game, our robot is holding a bubble wrap sheet in front of EVE, and she is using her laser beam precision in bursting and popping all the bubbles from the layer.
Be aware that you need to pop all the bubbles without going out from the sheet area; otherwise, your laser beam will freeze for a few seconds, which will make you lose precious time. Also, if you go over Wall-E's fingers that are holding the sheet, the laser beam will freeze again.
How to play the game
Every level has a timer ticking. You start off with 45 seconds timer, and it gradually rises as you go through the levels. According to the number of levels passed, the difficulty of the gameplay also increases.
You will start off with the whole sheet of bubble wrap. Next levels will bring up new challenges, like bigger sheets or sheets with some gaps within. If you go with your laser beam through a hole, it will freeze for a few seconds.
Eventually, it could get even more complicated, with sheets moving around, and later you'll have moving sheets with holes in them. You got the point, right? It gets increasingly harder and almost impossible to finish.
But nothing is impossible if you have a sharp mind and a steady hand to help you out. If during the play, you finish the level with some extra seconds left, you'll earn bonus points. 'Pop!' is the game you'll want to play over and over. Just give it a shot!
If you enjoy playing Pop!, you might be excited to find out that there are 14 more WALL-E games you can try! The most popular is Trash Tower, and the most recently added is The Video Game