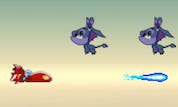 Play Now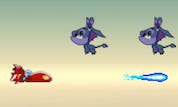 Unfortunately Paradise Rescue is not available on your device. Please try one of the related games instead or visit our HTML5 category.
This Flash game is loaded using an emulator. If you notice any glitches(such as the game getting stuck or music/sound missing), click to play the original version with NuMuKi Browser for the best experience.
About Paradise Rescue Game
When two aliens kidnap your best friend, you will do anything to save him. In Paradise Rescue game, Stitch had found himself in a similar situation when Jumba and Pleakley captured Lilo. The little girl must be scared and fear for her life, but Stitch is here to help. You need to help Stitch do what is right and save Lilo.
Saving Lilo is not as easy as it seems. There are so many waves of aliens that will try to stop you, but with courage, you will pass through them.
How to play the game
To shoot them, use the space-bar key, but be careful not to get shot first. Once you shoot one wave, you will get some fruits that once collected, will boost your power and points.
For moving use, the arrow keys but be careful not to get into the aliens. You can grab the extra speed boosts for getting faster to Lilo. Once you score 500.000 points, you will get an extra life, but you can also find life-power-ups on your way. Pick them up every time you can.
To help Stitch get to his lovely Lilo, you have to pass 15 levels in total. Each level will be harder and harder but do not give up and do not let Stitch down this time. He counts on you for saving Lilo. Get armed with courage and force and be faithful that if you will ever need help, Lilo and Stitch would do the same for you.
Good luck, and have fun!
If you enjoy playing Paradise Rescue, you might be excited to find out that there are 23 more Lilo and Stitch games you can try! The most popular is 625 Sandwich Stacker, and the most recently added is Alien Interception