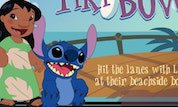 Play Now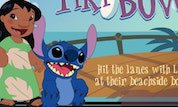 Unfortunately Stitch Tiki Bowl is not available on your device. Please try one of the related games instead or visit our HTML5 category.
This Flash game is loaded using an emulator. If you notice any glitches(such as the game getting stuck or music/sound missing), click to play the original version with NuMuKi Browser for the best experience.
About Stitch Tiki Bowl Game
Lilo and Stitch always find amazing things to do on a typical day. Today they have decided to have some great time together by playing a good Tiki Bowling game! What do you say about being a part of the team and have a little bit of fun with those two good friends? The Stitch Tiki Bowl game is the perfect opportunity for you to do that.
How to play the game
What you have to do? It is easy. Stitch will be your ball, and he will try to knock down all the pins from the end of the lane. You have ten different stages in the game, each one of them becoming a bit harder every time. To eliminate the pins, you will have two tries for each level.
All you need to do is use the space-bar key from your keyboard to position Stitch on the lane, then using the same key select an angle of Stitch's curve. In the end, all you have to do is choose the speed you want, and Stitch will roll to knock down the pins.
Try to knock down as many pins as you can from the first try because they are worth one hundred points for each one. From the second try, the pins are worth only fifty points each. If you pick up pods and tikis, you will earn bonus points for your final score. Be careful though, not to roll over a puddle of water or to bump into a tiki bumper because it will get you to go off course!
If you enjoy playing Stitch Tiki Bowl, you might be excited to find out that there are 23 more Lilo and Stitch games you can try! The most popular is 625 Sandwich Stacker, and the most recently added is Alien Interception