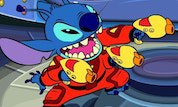 Play Now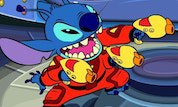 Unfortunately Stitch Galactic Escape is not available on your device. Please try one of the related games instead or visit our HTML5 category.
This Flash game is loaded using an emulator. If you notice any glitches(such as the game getting stuck or music/sound missing), click to play the original version with NuMuKi Browser for the best experience.
About Stitch Galactic Escape Game
Oh no! Experiment 625 wants to escape from the galaxy prison, but there are so many things on the way which can stop him in Stitch's Galactic Escape game! It is almost impossible for him to do it. Even so, he does not give up, and all he wants is to be free.
Everyone sees Stitch as a bad person, but we know that he can learn to be good and that deep inside him, he has a kind heart. This is the reason why you need to help him with his plan in the game!
How to play the game
The place where Stitch is now is full of traps, which tries to lock him again. There are also creatures that want to harm him. Even his creator intends to lock him up.
While you try to escape, you need to collect all the power-ups that appear in your way. They will help you later on when you have to beat the guard waiting for Stitch at the end of each level. You will also find bonus lives on your way. Collect them all and be careful at those who want to stop you.
To move Stitch, use the left and right arrow keys for walking, and the up arrow key to jump. To use the guns, press the space-bar key. Once you started walking, you cannot go back to where you were before. Try not to die too many times, or the game will be over.
Once you pass all the three levels, you will be free, and you can cause some intergalactic mayhem!
If you enjoy playing Stitch Galactic Escape, you might be excited to find out that there are 23 more Lilo and Stitch games you can try! The most popular is 625 Sandwich Stacker, and the most recently added is Alien Interception