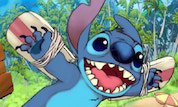 Play Now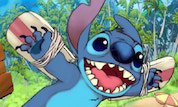 Unfortunately Stitch Island Tour is not available on your device. Please try one of the related games instead or visit our HTML5 category.
This Flash game is loaded using an emulator. If you notice any glitches(such as the game getting stuck or music/sound missing), click to play the original version with NuMuKi Browser for the best experience.
About Stitch Island Tour Game
What a big and beautiful island! Stitch wants to explore all of it and what a better way to do it than from up in the air? There is only one little problem: Stitch cannot fly. Anyway, with the help of Lilo, he managed to create a pair of wings which he can use to fly up in the air and see the whole island. You can explore it together with him in the Stitch Island Tour game! Let's see how you can do that.
How to play the game
To begin with, you need to follow three easy steps! The first one is to stretch the hammock as much as you can, by repeatedly pressing the left arrow key from your keyboard. The second step is to push the right arrow key only once, to launch Stitch up in the air. Now, that you are here, use your up and down arrow keys to keep Stitch in the air as much as you can. A piece of cake, right?
Watch out for Lilo because she will be there to help you anytime. There are also some objects down on the ground, such as umbrellas or balloons, which you can use to extend your journey. When Lilo is happy, it means that you can land safely on one of the specified items. You will receive a boost and get back in the air. If she looks worried, it means that the objects are going to harm you.
When you land, press the space-bar to start again and try to beat the distance that you traveled first. Stitch cannot wait to see all the beauties that the island has. Start having fun with him and get lost in beautiful Hawaii.
If you enjoy playing Stitch Island Tour, you might be excited to find out that there are 23 more Lilo and Stitch games you can try! The most popular is 625 Sandwich Stacker, and the most recently added is Alien Interception