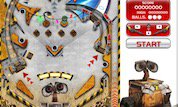 Play Now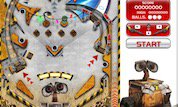 Unfortunately Wall-E Pinball is not available on your device. Please try one of the related games instead or visit our HTML5 category.
This Flash game is loaded using an emulator. If you notice any glitches(such as the game getting stuck or music/sound missing), click to play the original version with NuMuKi Browser for the best experience.
About Wall-E Pinball Game
Bet you are up for an incredible game of pinball with one of the most popular Pixar characters in the world! If you are, we couldn't think of a better time for you to start playing Wall-E Pinball game!
Wall-E is a curious robot which people have left behind to clean the planet after everybody has moved away. Even though Wall-E is the only functional robot of his class, this is not the only thing which makes him one of a kind! He is also quite lovable and friendly and has a heart of gold despite being made of iron and steel. He also likes to have a lot of fun, and he is inviting you to play the classic game of pinball with him!
How to play the game
Your goal is to keep the ball from falling for as long as you can to earn more points and achieve the best high score! You should use the arrow keys on your keyboard to play this game.
Press and hold the down key to launch the ball as high up as you want and control the intensity of the launch. You should use your left and right arrow keys to control the flippers and keep your ball from falling down. Make sure you follow the ball carefully and be ready to launch it back up when it starts falling down.
You only have three shots, so be cautious and try to catch the ball every single time to make your game last longer. Keep track of your points by looking at the sidebar on the right part of your screen. Get as many points as you can and be the best player!
Also, the design of the game is perfect, and it takes you directly to Wall-E's world. This can help you experience what it is like to live on his planet, and you will definitely have a lot of fun!
Are you ready to be the best at Wall-E Pinball? We are sure you have the focus and precision necessary to achieve your goals and have a great time with the lovable Wall-E on your side! Start playing the game right now and become the legendary pinball player that everyone is waiting for!
If you enjoy playing Wall-E Pinball, you might be excited to find out that there are 14 more WALL-E games you can try! The most popular is Trash Tower, and the most recently added is The Video Game