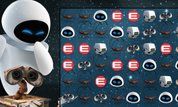 Play Now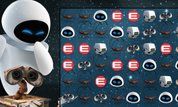 Unfortunately The Video Game is not available on your device. Please try one of the related games instead or visit our HTML5 category.
This Flash game is loaded using an emulator. If you notice any glitches(such as the game getting stuck or music/sound missing), click to play the original version with NuMuKi Browser for the best experience.
About The Video Game Game
Wall-E lives in a world full of beautiful things and robots. His ways of having fun will always test your imagination, creativity, memory and of course, your abilities to do different tasks. This exciting game is one perfect way to show to Wall-E what a great fast thinker you are and how good your skills of perception are.
Today is a good day for challenges and games, and this is the reason why Wall-E asks you to help him a little bit. You have to align vertically or horizontally pieces of the same type from Wall-E world, in order to make them disappear. Doing this thing, you will gather many points that will give you a high score at the end of the game.
How to play the game
Align at least three pieces that look the same so they can disappear fast. If you align more than three parts, you will get more points. In order to do all these things, you have to use your mouse to move the pieces. Click on the one you want to move and to exchange it with another one, click on it too.
Be careful because the only time you have is five minutes.
During these five minutes, you have to gain as many points as you can. When the time is over, so will be the game and your final score will appear on your screen. You can choose to play again anytime you want and try to beat your score.
What do you think? Are you good enough to pass this fun test of Wall-E? If so, then do not forget to have fun and do your best!
If you enjoy playing The Video Game, you might be excited to find out that there are 14 more WALL-E games you can try! The most popular is Trash Tower, and the most recently added is Jigsaw Puzzle