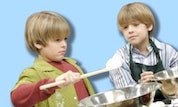 Play Now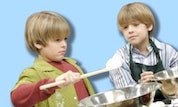 Unfortunately Kitchen Commotion is not available on your device. Please try one of the related games instead or visit our HTML5 category.
This Flash game is loaded using an emulator. If you notice any glitches(such as the game getting stuck or music/sound missing), click to play the original version with NuMuKi Browser for the best experience.
About Kitchen Commotion Game
Are you ready for yet another amazing adventure together with Zack and Cody twins and their friends Maddie and London? Then join them in this exciting Kitchen Commotion game! They can't wait to start playing with you in this entertaining food fight game!
Zack and Cody live at the big Tipton hotel together with London and Maddie, and they want you to play with them in the hotel's kitchen! So let's make a big fun mess and enjoy this active and entertaining game, shall we?
Once you enter the big Tipton hotel kitchen, simply grab the food and throw it at your opponent. Make sure you throw as much food as you can because the person who throws more food at the end of all seven rounds wins!
Useful tips
Each type of food is worth a different amount of points, so select the food wisely. You can use either your mouse to move up and down or the direction keys on your keyboard. Also, you can press the space key to throw the food, or you can click your left mouse button.
While you are playing, try to avoid being seen by the strict Mr. Moseby or Zack and Cody's mother - Carey because they might appear at the kitchen door when you least expect it! Don't forget to collect the delicious cookies at the end of each level because they will bring you extra points that might help you win! Be careful about the time – you have only forty-five seconds for each round.
Help your favorite character have an incredible time and enjoy making a fun mess at the Tipton hotel! Come on down and let's start our adventure together!
If you enjoy playing Kitchen Commotion, you might be excited to find out that there are 14 more Zack and Cody games you can try! The most popular is Pizza Party Pickup, and the most recently added is Smoothie Sailing