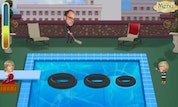 Play Now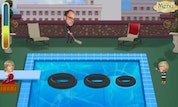 Unfortunately The Pool Invasion is not available on your device. Please try one of the related games instead or visit our HTML5 category.
This Flash game is loaded using an emulator. If you notice any glitches(such as the game getting stuck or music/sound missing), click to play the original version with NuMuKi Browser for the best experience.
About The Pool Invasion Game
Zack and Cody are back! Ready for new adventures? They sure are! Watch them in action while playing The Pool Invasion game, one of the most popular games featuring the twins! It's brand new, fun, diverse and summer filled game. Who doesn't like summer? Let's go and check out what Zack and Cody have in store for us with The Pool Invasion. This game is consisted out of three different small games. Make sure you read all about them first to be able to enjoy them fully.
While playing the The Inflatable Tower your goal is to bring up skyscraping inflatable towers. Use direction keys to move them LEFT and RIGHT. Chasing these small and annoying pelicans can be done by pressing UP or DOWN keys. If your Mom sees you, you'd want to hide, so use the SPACEBAR button for hiding.
Springboard Basketball is a fun game in which you need to obtain enough power for a hoop shot. When you manage to do that, press SPACEBAR and press UP and DOWN direction keys to be able to move Cody around as he is the last line of defense.
Balloon Season is a game where you are needed to use a water gun as you would do in real life. Use it to shoot balloons. Aim your water gun by using direction keys (UP, DOWN, LEFT, RIGHT) and shoot with SPACEBAR button.
Now, since you know exactly what you need to do, just start playing and enjoy all the variations implemented in this unique game with Zack and Cody. Have fun!
If you enjoy playing The Pool Invasion, you might be excited to find out that there are 14 more Zack and Cody games you can try! The most popular is Pizza Party Pickup, and the most recently added is Smoothie Sailing