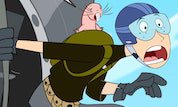 Play Now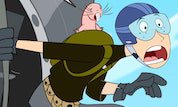 Unfortunately Ron's FreeFall is not available on your device. Please try one of the related games instead or visit our HTML5 category.
This Flash game is loaded using an emulator. If you notice any glitches(such as the game getting stuck or music/sound missing), click to play the original version with NuMuKi Browser for the best experience.
About Ron's FreeFall Game
Have fun while exploring new adventures of Ron and Kim Possible while plating Ron's FreeFall game! This time you play as Ron jumping out of an airplane with Kim and going down to the ground to find Dr. Drakken's secret lab.
The game plot
Right before Ron jumped out of the aircraft, he dropped his report papers in the sky. As the report papers scattered around the blue skies, Ron must collect as many as possible on his way down. However, this isn't going to be an easy task since there are too many obstacles to avoid along the way.
You need to be careful of black clouds, comets, missiles, robotic screech vultures, balloons and power supplies. If you get zapped, you'll lose Rufus (rodent pet) who's holding your parachute on your back. In that case, you'll begin to freefall with countdown timer counting seconds before you hit the ground. However, if you manage to catch Rufus along your freefall, he'll jump right on your back and reconnect the parachute saving your life.
Game Controls
While you're going down with your parachute, use your mouse to move Ron around the sky and use the space-bar to switch between parachute mode (slowly descending) to backpack helicopter mode (slowly ascending).
Along your way down, your primary objective is to collect as many report pages as possible. Obtaining a single page brings you 10 points, but acquiring a page held by a bat that's moving around will give you 50 points.
This game is quite fun to play, but you must use your reflexes fast since there are many things to avoid.
If you enjoy playing Ron's FreeFall, you might be excited to find out that there are 19 more Kim Possible games you can try! The most popular is A Sitch in Time Episode 02: Past, and the most recently added is Mission Improbable