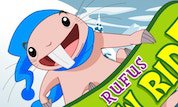 Play Now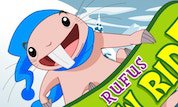 Unfortunately Rufus Snow Ride is not available on your device. Please try one of the related games instead or visit our HTML5 category.
This Flash game is loaded using an emulator. If you notice any glitches(such as the game getting stuck or music/sound missing), click to play the original version with NuMuKi Browser for the best experience.
About Rufus Snow Ride Game
Join Rufus on a new adventure while playing Kim Possible: Rufus Snow Ride game!
Rufus is a brave little mole rat, the pet of Ron Stoppable. He used to take part in all of the adventures lead by Kim Possible. Due to his smartness, Rufus saved Kim and Ron many times when the situation seems to be utterly hopeless.
How to play the game
Today Rufus is having a ride on his snowboard on the slopes of Mount Middleton. He's heading down to meet up with Ron. But something went wrong. Seems like DNAmy, a bio-geneticist and a specialist in the field of animal hybrids, unleashed her army of genetically modified Cuddle Buddies! These scary creatures are now after Rufus! Help him to pass through all the obstacles on his way, not to get caught and find Ron!
Snowboard down the mount as fast as possible! Move up and down maneuvering between the obstructions, using Up and Down arrow keys. Use Left and Right keys to slow down and speed up. Same keys work if you want to crouch down or throw some snow on Cuddle Buddies. Press the space-bar and jump as you see a ramp and press 1-2-3 keys to perform tricks while you're in the air!
Useful tips
Don't forget to gather some bonuses. For instance, Snowman will make you invincible so that you can roll over the enemies. You can pass in between the two snowboards to have extra points at the end of the level.
If you reach the finish point before the time is up, the time remained will carry over the next level. Since you have your time limited, there is Time Extension Flag! What's more important: don't run into trees, rocks or Cuddle Buddies! Jump over them instead and get points!
Have fun!
If you enjoy playing Rufus Snow Ride, you might be excited to find out that there are 19 more Kim Possible games you can try! The most popular is A Sitch in Time Episode 02: Past, and the most recently added is Mission Improbable