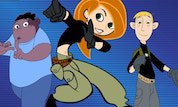 Play Now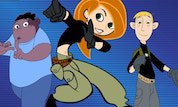 Unfortunately Rufus' Rescue is not available on your device. Please try one of the related games instead or visit our HTML5 category.
This Flash game is loaded using an emulator. If you notice any glitches(such as the game getting stuck or music/sound missing), click to play the original version with NuMuKi Browser for the best experience.
About Rufus' Rescue Game
Rufus Rescue game presents you another adventure orchestrated by Kim Possible, Ron Stoppable, and Wade! This time they are going to have another dangerous mission: to rescue Rufus, who was kidnapped by Dr. Drakken!
Kim and her friends successfully defeated the mad scientist many times and taught him not to mess up with them again. But Dr. Drakken was thinking of a mass vengeance and, finally, decided to strike back with real revenge! He kidnapped small and cute mole rat Rufus to unsettle Kim, Ron, and Wade. How meanly his action is!
But it's not easy to disturb Kim Possible. She's already preparing a rescue mission. Join Kim Possible and her team and take Rufus back from Dr. Drakken hands!
How to play the game
That's how to perform your task. You will have to play the part of Kim, Ron, and Wade. Switch between them by clicking on their pictures or using 1,2,3 keys. Move around the room trying not to get caught. Be careful, because Dr.Drakken left some obstacles in your way. These things will negatively affect your life scale.
Shoot with a freeze ray by using the Control key! Pick up nice bonuses to increase your energy or to recharge your freeze phases. Don't miss the K-logo which will get you additional bonus points.
Sometimes you will have to jump to reach these bonuses, use the space-bar for that. Last, but not least: each character has a special move to fight the enemies. Make use of this moves to your advantage and keep up the progress through the levels. The characters can only activate them when they are standing on a target and by pressing the space-bar.
Good luck!
If you enjoy playing Rufus' Rescue, you might be excited to find out that there are 19 more Kim Possible games you can try! The most popular is A Sitch in Time Episode 02: Past, and the most recently added is Mission Improbable