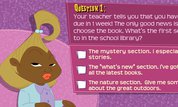 Play Now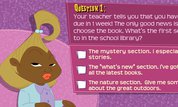 Unfortunately Party Personality Quiz is not available on your device. Please try one of the related games instead or visit our HTML5 category.
This Flash game is loaded using an emulator. If you notice any glitches(such as the game getting stuck or music/sound missing), click to play the original version with NuMuKi Browser for the best experience.
About Party Personality Quiz Game
All the Proud Family members are unique and know how to live their lives to the fullest. You might not be an official proud member, but for sure, you have some things in common with every person from there. To find out new things about you, you should play The Proud Family: Party Personality Quiz game.
If you decide to take the quiz, you should know that you would have a series of questions with multiple-choice responses. You have time to read and understand the subject, and after that, click on the answer that you think that suits you the best.
How to play the game
You can change your mind before going to the next subject and pick another answer. Every question will be about a situation in which you have to choose what you will do. At the end of the quiz, read your result and find out what your personality is like.
Maybe you are a party pooper, or you like to party hard, or you just love to stay inside or have secret talents, it all depends on your choice. More than that, when the quiz game is over, you can play again and get another final answer.
Tell your friends about the game and let them discover their proud personalities too. In this way, you will be able to consider yourself a Proud Family member.
Enjoy your time as a Proud Family member, and remember to be honest with you while you answer the questions. Only in this way, you will be sure that the result a relevant one for you.
If you enjoy playing Party Personality Quiz, you might be excited to find out that there are 7 more The Proud Family games you can try! The most popular is Sticky's Mixmaster, and the most recently added is Theme Song