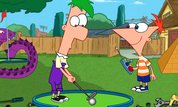 Play Now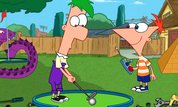 Unfortunately Gadget Golf is not available on your device. Please try one of the related games instead or visit our HTML5 category.
This Flash game is loaded using an emulator. If you notice any glitches(such as the game getting stuck or music/sound missing), click to play the original version with NuMuKi Browser for the best experience.
About Gadget Golf Game
The incredibly smart brothers Phineas and Ferb have finished yet another summer project, and they are waiting for you to help them test it out! Join them for a Gadget Golf game, and you are definitely going to have an incredible time! The game is so interesting and exciting that Phineas and Ferb might even get their sister Candace to play and not show their mum! Let's help the boys get the most out of their fantastic game, shall we? With your combined effort, skills and precision, you are going to have the most incredible golf match!
How to play the game
To choose the starting point and set the desired power to hit the golf ball, you should use your up and down arrow keys. Make sure you adjust the power correctly because every single step counts in the game of golf. Your left and right arrow keys should be used to achieve that perfect aim which will get you closer to your goal of winning the match! Once you have made all the right decisions, just press the spacebar or the Enter key in order to hit the ball and start the fun!
If you want to get extra points, you should try to roll your ball over those bonus bumps on your way to the hole or bounce it against the walls and different objects in the game.
You have a total of five strokes per one hole. If you use up all of them, your turn will be over, and the tally will be set to six. Things will get a bit harder with each new level, so make sure you are focused and prepared to play the best golf match of your life!
Other Games in this Series
If you enjoy playing Gadget Golf, you might be excited to find out that there are 48 more Phineas and Ferb games you can try! The most popular is Hoverboard World Tour, and the most recently added is Titans on the Track