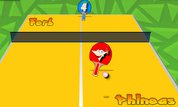 Play Now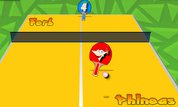 Unfortunately Table Tennis is not available on your device. Please try one of the related games instead or visit our HTML5 category.
This Flash game is loaded using an emulator. If you notice any glitches(such as the game getting stuck or music/sound missing), click to play the original version with NuMuKi Browser for the best experience.
About Table Tennis Game
If you like the challenges, just join the Phineas and Ferb and play together the Table Tennis game. You can play table tennis with your favorite Disney XD duo, Phineas, and Ferb. You will play as Phineas and use your paddle the best way you know because you must win.
The game is not too complicated. As most of you already know the basic rules of table tennis, just hit the ping pong ball to the other side of the table over the net. In this particular game, you need to be careful not to hit the net, or you'll lose a point. All that's left is to hope that your opponent will not be fast enough to return the ball on your part of the table. If the opponent, however, manages to reach and send back the ping pong ball, do your best to return it again, until one of you loses their step and miss the return shot.
Just keep the ball on the table
In this game, to control your moves and your paddle you must use only your mouse. Move it left or right, forward or backward, depending on where the ball is or where is it headed. Serving the ball goes to both players after every serve. Once you serve and never mind who won the shot, the other player will serve next. Just keep being focused on sending the ball over the net, and return the opponent's shots when needed!
If you shoot with enough power, you might get an ace reward, meaning you won the point of serving the ping pong ball. Enjoy this colorful table tennis game with your favorite Disney XD characters. First one to reach 21 points wins.
Good luck!
If you enjoy playing Table Tennis, you might be excited to find out that there are 48 more Phineas and Ferb games you can try! The most popular is Hoverboard World Tour, and the most recently added is Titans on the Track