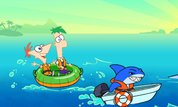 Play Now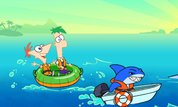 Unfortunately Jump the Shark is not available on your device. Please try one of the related games instead or visit our HTML5 category.
About Jump the Shark Game
Hope you are ready to start a great new adventure because your favorite Disney XD characters are eagerly waiting for you! Have a lot of fun while playing the incredibly entertaining Jump the Shark game!
Most popular Disney XD heroes have gathered and are waiting for you to select the one that would like to go on a fun new mission. The goal is to launch your character as far as you can into the water to get more points. To reach a considerably higher distance, try to jump onto any shark you see in your way. Doing this will help you bounce up and continue moving.
You can use your left mouse button or your space bar to control the jump. Also, pay attention to the turning wheel at the beginning of the game – you want to click your left mouse button or press space when the white arrow points closest to the red part of the wheel. This way more power will be used to launch your characters farther away.
Play with your favorite Disney XD heroes!
Select your favorite character for this adventure or give each one of them a go! If you want to have a leader and a mentor on your side, then Jack from Kicking It would be perfect for you. You can select the reckless Crash from Crash and Bernstein if you wish to have a lot of fun, or Phineas and Ferb if you want two smart and interesting partners! Let's not forget about the adventurous and fun-loving Milo from Fish and Hooks. Last, but not least, you might decide to take the kind-hearted Wander from Wander over Yonder on an adventure or perhaps the loyal and responsible bionic teenager Leo Dooley from Lab Rats. Randy Cunningham, the intelligent and skillful ninja from Randy Cunningham: the 9th Grade Ninja might also be an excellent choice, as well as the laid-back Kaz or the cautious Oliver from Mighty Med.
Don't forget to check out who has the best floatiness, and speed before you select your character. Enjoy yet another amazing Disney XD adventure and have a blast with your favorite characters!
If you enjoy playing Jump the Shark, you might be excited to find out that there are 48 more Phineas and Ferb games you can try! The most popular is Hoverboard World Tour, and the most recently added is Titans on the Track