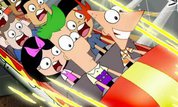 Play Now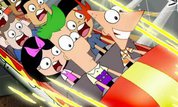 Unfortunately The Coolest Coaster Ever is not available on your device. Please try one of the related games instead or visit our HTML5 category.
This Flash game is loaded using an emulator. If you notice any glitches(such as the game getting stuck or music/sound missing), click to play the original version with NuMuKi Browser for the best experience.
About The Coolest Coaster Ever Game
Step in a new adventure with Phineas and Ferb and build a great roller coaster in Coolest Coaster Designer Ever game! Ever wanted to have a ride on a coaster? Felt unsatisfied with all the coasters poor design? Seen a perfect coaster track in your dreams? Phineas and Ferb also experienced this feeling, that's why they came up with a crazy idea: they want to build their own coaster, and they call you in! Here is your chance to create the coolest coaster ever!
Put your plan on the paper first. Choose between the items on the bar below and make them part of your circuit. Start with dragging parts of your future coaster on the paper. You can add simple parts of the track and figures to make the ride truly exciting. Time to unleash your fantasy and call for creativeness! Finish up the plan and go for a ride!
Test your custom Roller Coaster!
Check if your route really works by pressing the start a ride button. Speed up and slow down using the arrow keys. Race the track, have fun, make new records! Watch the timetable to beat up the previous result. Don't panic if something goes wrong, you can always restart the ride. Or get back to the desk via the edit track button and make some corrections in order to improve the track!
The Coolest Coaster Ever is an excellent opportunity to test your engineering skills. Make changes in the track and apply your experience from previous rides to make the coaster genuinely amazing! Have fun and don't be scared. Phineas and Ferb aren't.
If you enjoy playing The Coolest Coaster Ever, you might be excited to find out that there are 48 more Phineas and Ferb games you can try! The most popular is Hoverboard World Tour, and the most recently added is Titans on the Track