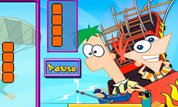 Play Now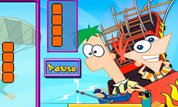 Unfortunately Phineas and Ferb Tetris is not available on your device. Please try one of the related games instead or visit our HTML5 category.
This Flash game is loaded using an emulator. If you notice any glitches(such as the game getting stuck or music/sound missing), click to play the original version with NuMuKi Browser for the best experience.
About Phineas and Ferb Tetris Game
Phineas and Ferb are taking a break from their summer projects, and they want to invite you to join them for an incredible Tetris Game! Are you ready to be a part of their team?
Phineas and Ferb are two smart brothers who are able to solve any problem they encounter, but this time they require your skills and focus! A new summer adventure is about to begin, and Agent P will be there to support you and the two smart brothers along the way!
How to play the game
Use your left and right arrow keys to move the cubes around before they reach the bottom. Use your up arrow key to change the shape of the cubes so you can select the one which would fit perfectly with the others. Use your down arrow key to speed up the blocks and make them fall faster if necessary. Your goal is to create as many lines of cubes as possible. Each time they form a line, they disappear from your screen, and you get more points, as well as the chance to make this exciting game last longer.
Make sure you create as many lines as you can for a higher score and help Phineas and Ferb to become Tetris champions! Are you the one they are waiting to help them reach the highest score? Do you have what it takes to help the ingenious brothers improve their Tetris skills? Stick with them if you want to have an incredible time and be the best!
Have fun!
If you enjoy playing Phineas and Ferb Tetris, you might be excited to find out that there are 48 more Phineas and Ferb games you can try! The most popular is Hoverboard World Tour, and the most recently added is Titans on the Track