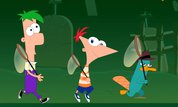 Play Now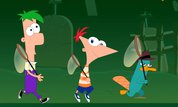 Unfortunately Lightning Bug is not available on your device. Please try one of the related games instead or visit our HTML5 category.
This Flash game is loaded using an emulator. If you notice any glitches(such as the game getting stuck or music/sound missing), click to play the original version with NuMuKi Browser for the best experience.
About Lightning Bug Game
Join yet another fun adventure together with Phineas and Ferb while playing the Lightning Bug game! Remember warm summer nights with strange bugs lightning in the dark which you always wanted to catch? That's your chance to realize your wish! Phineas, Ferb and Perry the Platypus are going for a night fireflies hunt and taking you with them! Lead the friends through the night darkness and help them to collect lightning bugs for a fireflies lamp.
How to play the game
The bugs are flying at a different height. Each of the characters can jump on a certain height. Depending on the height that each insect flies, you have to click on the appropriate character which can jump precisely at that level. This way you make sure to reach and catch the bug.
You have a limited time to complete the task. Watch the timer placed in the upper part of the screen to see how much time you still have left. The time increases if you're hunting fireflies successfully. The more of them you catch, the more time you have. You can also drag the characters elsewhere and line them up again, if the situation requires, by clicking anywhere above them.
Of course, there are also obstacles on the way. There is blinking sign in the corner to warn you about it. Make the characters jump over obstructions one by one. If one of the friends hit an obstacle, the time will rapidly decrease! Watch for bonuses, especially for flying clocks, they will give you extra time, if you catch them. The more lightning fireflies you capture, the faster the game will run!
Good luck in catching them all!
If you enjoy playing Lightning Bug, you might be excited to find out that there are 48 more Phineas and Ferb games you can try! The most popular is Hoverboard World Tour, and the most recently added is Titans on the Track