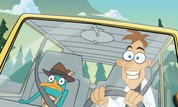 Play Now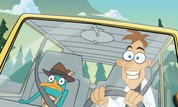 Unfortunately Drusselstein Driving Test is not available on your device. Please try one of the related games instead or visit our HTML5 category.
About Drusselstein Driving Test Game
You shouldn't miss the Drusselstein Driving Test game if you are a fan of Agent P adventures! While everybody is used to see Dr. Doofenshmirtz trying to do only bad things, the situation is different this time. He is trying to get his driving license, but he needs Perry the Platypus' help. In this game, you need to ensure that obtaining the permit is not just another trick to capture Perry. Help him do well in his test!
For Dr. Drusselstein to have a driving license, it takes some time and some essential steps to be followed. So you had better prepare your mouse and be ready to click fast when you have to.
How to play the game
First, to make the car work, you will need a boost. This is where our famous little goat will step in. Start to quickly tap-clicking to increase the goat's speed. Once you are pushed down the cliff, try to collect as many Doonkelberries from the road. You will need them later when a few gifts are waiting for you.
You will soon notice that the road is full of obstacles and dangerous rocks, which will pop on your way sooner or later. Each time you find yourself stuck, you can use one of your available Gnome-Powered Rocket Boosts. Just quickly click anywhere on the screen, or eventually press the Space Bar, you will get an extra boost!
Each round is over when you cannot get out of obstacles anymore; At that point, you will receive your score, and you can see how good you have done on your license. Now you can also go to the Gimmelshtore and use the collected Doonkelberries for various upgrades. You can get additional boosts, improve different car parts, or even increase the chances of encountering even more bonuses.
So, what are you waiting for? It's only up to you how good or bad will Dr. Doofenshmirtz do on this test, so get ready and step in!
If you enjoy playing Drusselstein Driving Test, you might be excited to find out that there are 48 more Phineas and Ferb games you can try! The most popular is Hoverboard World Tour, and the most recently added is Titans on the Track