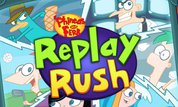 Play Now
About Replay Rush Game
Phineas and Ferb are well known for having the best fun on earth. However, this time in the Replay Rush game, they find out that the Tri-State area has been put into a looping time warp. It looks like Doofenshmirtz might be the one behind all this.
To save the Tri-State area, you need to do something to fix the timeline. You should be able to do this by replaying some past events in the Vortex. The Vortex is actually represented by a collection of great mini-games from Phineas and Ferb past! It's like trying to remember all the beautiful and crazy things they used to do every single day! This will help you to acknowledge once again that there's no way you could get tired or bored while you are with them.
Play all those mini-games!
They had the most fantastic summer of their lives, and now you can live it again, remembering and seeing every moment of it. You will be able to discover all the beautiful things they did. You need to enter the Vortex and start playing all the games but in a short time. You will barely have time to see what is happening, but it will be enough to remember the most remarkable moments.
You have three lives. Be careful not to use all of them because once you lose them, you will have to restart everything from the very beginning. After you remember the games, there is a special section where you can find all of them and go play them. If you do not want to do this, you can spend more time playing in a rush and collecting achievements.
Once you are done with a Vortex, you will unlock another one. And this will continue until you have all the games played. We know for sure that Phineas and Ferb would love to see and remember all the adventures they have been on, and in this way, you can do it too. Do not lose any more time and start having fun playing more games at once!
If you enjoy playing Replay Rush, you might be excited to find out that there are 48 more Phineas and Ferb games you can try! The most popular is Hoverboard World Tour, and the most recently added is Titans on the Track