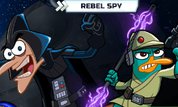 Play Now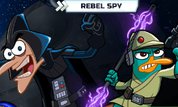 Unfortunately Agent P Rebel Spy is not available on your device. Please try one of the related games instead or visit our HTML5 category.
About Agent P Rebel Spy Game
Phineas and Ferb present you a fantastic Star Wars parody, Agent P Rebel Spy game! It's a multi-fun game with many obstacles and enemies across your run. It starts off with infiltrating within the Death Star base station. Your mission is to defeat all the Normtrooper minions of the great and evil Darthenshmirtz.
How to play the game
Along your way, you will be able to steal blasters from Normtroopers and use them against your enemies. Furthermore, in the game, you'll find the Electrostaff which is great for defending yourself when Normtroopers are firing at you and as well for attacking them. Along your way, you also need to pick up as many as you can or preferably all of the Rebel symbols. Every now and then you might stumble upon energy bars, which will restore your energy level and keep you in good shape for fighting.
During your run, you'll see that some doors are locked and to unlock them and proceed further you need to set free all your frozen allies. Unfreezing them will allow them to open those doors for you so you can continue your run.
Controlling Agent P. Rebel Spy is easy. Use your direction keys on your keyboard to move LEFT and RIGHT, and the UP ARROW key to JUMP. You can jump toward a wall if you want to climb it. Double tapping UP ARROW key will allow Agent P to make a double jump. SPACEBAR key is used to steal or obtain weapons close to you and also for shooting at your enemies. Keep in mind though, that you will not be able to climb the walls anymore while you'll carry the gun.
May the Force be with you!
If you enjoy playing Agent P Rebel Spy, you might be excited to find out that there are 48 more Phineas and Ferb games you can try! The most popular is Hoverboard World Tour, and the most recently added is Titans on the Track