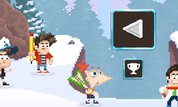 Play Now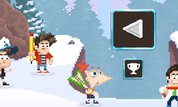 Unfortunately Oddventure Land is not available on your device. Please try one of the related games instead or visit our HTML5 category.
About Oddventure Land Game
The Oddventure Land game is yet another Disney XD game in which you can team up with various Disney characters and enter the magic realm filled with elves, dragons, and many other beasts, princesses, magicians, and dungeons. Your primary objective is to find and obtain XD gems. Besides, you also need to collect various items along the game. Numerous equipment, food, coins and others. You can also buy many things from the store so you'll be able to go through levels easier.
How to play the game
To move around and attack with your character you must use only your mouse. Clicking on the direction you want to send your hero will make him move. Clicking on the various objects will make him punch and crack them so you can collect all the goods inside. Also, clicking on enemies will make your character knock them. Enough clicking will eventually destroy them.
Be aware that some enemies are very easy to destroy while some aren't. When you find the ones that are harder to kill you should try punching them several times and then moving along to pick up some energy boost because you don't want to lose a life. In some cases, while you fight one enemy, many other enemies might join the same fight which will decrease your odds of successfully ending that fight.
This is just another interesting RPG game which you don't want to miss. Trust me. It is a fun, exciting game that will get all your scenes high. You love the magic, right?
If you enjoy playing Oddventure Land, you might be excited to find out that there are 48 more Phineas and Ferb games you can try! The most popular is Hoverboard World Tour, and the most recently added is Titans on the Track