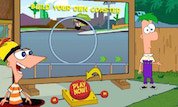 Play Now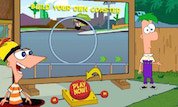 Unfortunately Game Smash is not available on your device. Please try one of the related games instead or visit our HTML5 category.
This Flash game is loaded using an emulator. If you notice any glitches(such as the game getting stuck or music/sound missing), click to play the original version with NuMuKi Browser for the best experience.
About Game Smash Game
Have you ever wanted to build your own coaster? Here's your chance while playing the Game Smash together with Phineas and Ferb! Build and test your personal coaster, and share it with everyone!
First, select a character to test your coaster. You can choose between Phineas, Ferb, Perry the Platypus, Isabella, and many others. Some are locked at the begging, but you will have a chance to unlock them. Select your cart among many cool vehicles. While progressing through the game, you will be able to unlock new carts.
Customize your Roller Coaster
Add some color changes to the selected cart and go on the track. Select the background and start building the coaster! Choose where you want to start and to finish by dragging the cart to a suitable height. There are pieces for your future track on the left bar. Start building by arranging them where you see fit. Decide how difficult the coaster will be.
There are some locked pieces that you can reach earning tokens. The two arrows below will speed up or slow down the cart on the track. There also tokens you can place around your coaster so your friends can earn points. You can also earn points and unlock many of these cool power-ups and the bar below!
It's time to test your track after the job is done! Watch the power meter and click "Go" when it reaches the desired speed then, go for a ride! After all, register and save the track! And if you are a fan of Rollercoaster designer games, then you should also play another similar game featuring Phineas and Ferb: Coolest Coaster Designer Ever game!
Good luck, and have fun while riding!
If you enjoy playing Game Smash, you might be excited to find out that there are 48 more Phineas and Ferb games you can try! The most popular is Hoverboard World Tour, and the most recently added is Titans on the Track