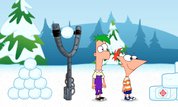 Play Now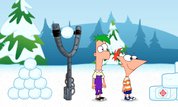 Unfortunately Snow Brawl is not available on your device. Please try one of the related games instead or visit our HTML5 category.
This Flash game is loaded using an emulator. If you notice any glitches(such as the game getting stuck or music/sound missing), click to play the original version with NuMuKi Browser for the best experience.
About Snow Brawl Game
Seeking for a new mission? You have come to the right place because your favorite Disney characters can't wait to start having a fantastic time with you in Snow Brawl game! The main idea of this funny and entertaining game is actually a snowball fight between famous Disney XD heroes, grouped by teams of two. Select your favorite duo and help them be the first ones to completely knock down the enemy team's energy bar in order to win the game.
Prepare a good game strategy
The gameplay is straightforward. First, try to approximate how far is the enemy base and how much power do you need to use for the snowballs to hit their fort. Then use the cursor to set the desired angle and stretch the slingshot as far as you wish. Next, simply release it and see how accurately your shot was. You will receive points each time you hit the enemy team directly, so make sure to have as many hits as you can. The key tip is to learn from your previous shots and correctly adjust for the next ones so you can hit the enemy team as accurately as possible.
Use the power-ups!
However, this is not all. You can also find a lot of power-ups in your enemy's snow fort which might help you win the game. Some of them are the Snow Split, Target Homing and the Giant Snowball, so make sure you collect everything that is offered to you. You have to win against the other team two times to win the game, so better hurry up because your favorite Disney characters are waiting!
You can either select the witty two king brothers Boomer and Brady Parker from Pair of Kings or the smart and fun Phineas and Ferb from the cartoon with the same name. Also, you might want to choose the skilled and intelligent Jack and Kim from Kickin' It or the brave Kick Buttowski and his kind friend Gunter Magnuson from the animated series Kick Buttoski: Suburban Daredevil.
Help your favorite duo celebrate the victory and have a wonderful time while playing with them! Have fun!
If you enjoy playing Snow Brawl, you might be excited to find out that there are 48 more Phineas and Ferb games you can try! The most popular is Hoverboard World Tour, and the most recently added is Titans on the Track