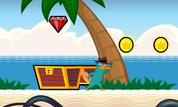 Play Now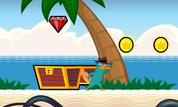 Unfortunately Agent P Treasure Island is not available on your device. Please try one of the related games instead or visit our HTML5 category.
This Flash game is loaded using an emulator. If you notice any glitches(such as the game getting stuck or music/sound missing), click to play the original version with NuMuKi Browser for the best experience.
About Agent P Treasure Island Game
Ready to join Agent P in one more adventure? Hop right in! Perry the Platypus has to win another battle against the evil Dr. Heinz Doofenshmirtz in Agent P Treasure Island game, but he won't be able to do it without your help and support!
Perry is one of the most fascinating characters from the famous Phineas and Ferb cartoon, and he has a lot of essential missions to attend to every single day. Even though people around him think he is merely a quiet pet platypus of the Flynn-Fletcher family, Perry is actually a secret agent with a lot of challenging quests to take and mysteries to solve. So join him on this adventure and help him to finish it successfully!
How to play the game
Use the arrow keys on your keyboard to move Agent P left or right and your space bar to get him to jump. Your goal is to collect the message in the bottle at the end of the level in order to finish it successfully. You should be aware of the crabs, octopuses, spiders and similar enemy animals while you are playing. Try to jump on them to destroy them or just avoid them.
Collect the coins on the way to your goal to get more points and open the chests to get power boosters and extra points. Try to help Agent P not to fall into one of the holes, because he can only bounce back seven times since he has got only seven lives.
Help Perry to achieve his goal, and go through all of the eight levels successfully! Be careful though, because it is only getting harder for Agent P to fight against the enemies. Become a secret agent on Perry's team and help him win the battle against Doofenshmirtz!
Have fun!
If you enjoy playing Agent P Treasure Island, you might be excited to find out that there are 48 more Phineas and Ferb games you can try! The most popular is Hoverboard World Tour, and the most recently added is Titans on the Track