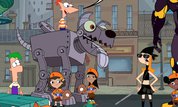 Play Now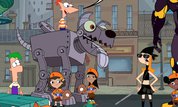 Unfortunately Robot Riot is not available on your device. Please try one of the related games instead or visit our HTML5 category.
This Flash game is loaded using an emulator. If you notice any glitches(such as the game getting stuck or music/sound missing), click to play the original version with NuMuKi Browser for the best experience.
About Robot Riot Game
Phineas and Ferb were hanging out in the backyard on a quiet, sunny day when suddenly weird things started happening. A man, looking very much like Dr. Doofenshmirtz, popped up out of nowhere and then, Candace appeared in front of them. And what an outfit she had! Since when Candace works as a secret agent, the two friends thought? This is how The Robot Riot game begins!
Candace seemed to be in a hurry. It turned out, she's Candace from another dimension, and she's chasing the evil twin of Dr. Doofenshmirtz! Something terrible is going to happen if the brothers don't hurry up right now. The evil Dr. Doofenshmirtz is planning to take over Danville and the whole world. There is almost no one to stop him! He and the original Dr. Doofenshmirtz prepared an army of Normbots to seize the city.
Destroy all the Normbots!
Unfortunately, Candace had let him pass to Danville, and he already reached the Doofenshmirtz laboratory. The Normbots are going to fill up the streets at any moment. Now Candace can't handle it on her own, she needs help!
Agent P, also known as Perry the Platypus is already in action. He's happy to provide all the possible inventions for the battle, but it's not enough. It's time to gather everyone, form a team and come out in the streets to protect Danville. Grab your blasters and go on your positions! You have to spread the units on the roads so no Normbot can pass. Destroy as many of them as you can! Watch out, the first wave of Normbots is approaching!
If you enjoy playing Robot Riot, you might be excited to find out that there are 48 more Phineas and Ferb games you can try! The most popular is Hoverboard World Tour, and the most recently added is Titans on the Track