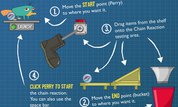 Play Now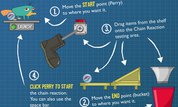 Unfortunately Chain Reaction is not available on your device. Please try one of the related games instead or visit our HTML5 category.
This Flash game is loaded using an emulator. If you notice any glitches(such as the game getting stuck or music/sound missing), click to play the original version with NuMuKi Browser for the best experience.
About Chain Reaction Game
Phineas and Ferb have tried all day long to solve this Chain Reaction game. It looks like they have a little bit of trouble getting the marble into the bucket, so they asked Perry to help them. Still, they need someone with a great mind and the ability to create a perfect chain to get the marble in its place. Help them with this mission by using the instruments and objects available!
How to play the game
There are some steps that you need to follow in order to build the chain reaction. First of them is to move Perry wherever you want to start from. It can be any place on your screen. Then you should move to the end, which is the red bucket. Place it somewhere on the screen and then start creating the actual chain. Drag the objects from the shelf onto the testing area of the chain reaction and position them in such a way that they connect with each other to work. You can even turn some of the items or change their position so it will be easier for the marble to roll into the bucket.
When you think you finished the chain, and everything looks just right, press on Perry. He will hit the marble that will roll on your chain all the way until it gets in the bucket. Or at least this is what's supposed to happen :) The longer you keep the mouse button pressed, the more power will be used to hit the ball. Try to create a long chain, but be careful not to get the marble stuck somewhere or to make it fall down because you will have to do everything from the very beginning.
When you finish it, you can try to make another chain. Also, maybe this time you will be able to make a better one. It all depends on you. Good luck and have fun!
If you enjoy playing Chain Reaction, you might be excited to find out that there are 48 more Phineas and Ferb games you can try! The most popular is Hoverboard World Tour, and the most recently added is Titans on the Track