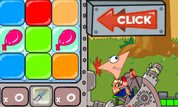 Play Now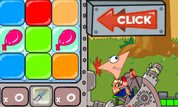 Unfortunately Robot Attack is not available on your device. Please try one of the related games instead or visit our HTML5 category.
This Flash game is loaded using an emulator. If you notice any glitches(such as the game getting stuck or music/sound missing), click to play the original version with NuMuKi Browser for the best experience.
About Robot Attack Game
Welcome to Phineas and Ferb Robot Attack game! This time the brothers were working on some new inventions again! They figured out how to convert an old video game into a water balloon launcher. The machine was ready, and Ferb was about to start it up when an explosion happened! Soon they found out that dozens of mean robots were just released from the video game! The two friends and the whole neighborhood are now in great danger. Somebody should stop the robot invasion!
Luckily, it's not easy to get Phineas and Ferb scared. They already have a great plan! But there are too many of the robots, and the boys need assistance. Will you help them to destroy the robots?
How to play the game
You just need to load up the balloon launcher with balloons and shoot the robots with them! Make blocks of the same color disappear and give space to new ones. It will take balloons down to the bottom so Phineas can shoot. Every time Ferb has a block of a specified color, you need to find several adjacent blocks of the same color. Press on a block of another color right nearby and change its color.
Keep changing blocks until there is a set of the same color. The block will disappear, the blocks above them will fall, and the balloons will move down. Now you can use the launcher against the robots! Don't let them reach the bottom! Watch how many balloons and other items you have on the bar below. Hurry up!
If you enjoy playing Robot Attack, you might be excited to find out that there are 48 more Phineas and Ferb games you can try! The most popular is Hoverboard World Tour, and the most recently added is Titans on the Track