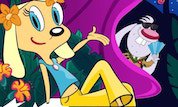 Play Now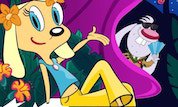 Unfortunately Brandy Style Diva is not available on your device. Please try one of the related games instead or visit our HTML5 category.
This Flash game is loaded using an emulator. If you notice any glitches(such as the game getting stuck or music/sound missing), click to play the original version with NuMuKi Browser for the best experience.
About Brandy Style Diva Game
When you live in the jungle, and you are a girl, life can be a little bit hard sometimes. We all know that girls need to be pretty all the time and look as good as possible. Fashion is something many people adore, and Brandy is no exception. We can say that is one of her favorite things and she will prove that in the Brandy Style Diva game contest.
For Brandy, her clothes mean a lot, and she would do anything to look great all the time. Every single accessory she puts on makes her look fantastic, even if she lives in the jungle.
This time, she trusted you to choose her outfit from a large variety of colors and clothes for a Fashion Photo Shoot. Let's see how you can help her.
How to play the game
There are five hot categories with different kind of shoes, head accessories, jewelry, skirts, and shirts. Once you picked the perfect clothing, choose your favorite color, and see how incredible Brandy can look in your own creation. If there is something that you think that might be changed, or you do not like what you have created, you can start over again anytime.
Once you finish dressing her up, click on the "I'm done" button and send the fabulous Brandy to the photo shoot. In this way, you will be able to see what a good designer you may become one day. More than this, you can also share your work with Disney Channel and other Fashionistas by clicking on the "Send" button.
It is time for you to shine bright like a diamond on the podium!
If you enjoy playing Brandy Style Diva, you might be excited to find out that there are 5 more Brandy and Mr. Whiskers games you can try! The most popular is Jumpin' Jungle Party, and the most recently added is Leaf Boarding