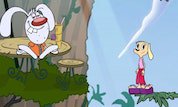 Play Now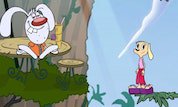 Unfortunately Jumpin' Jungle Party is not available on your device. Please try one of the related games instead or visit our HTML5 category.
About Jumpin' Jungle Party Game
When you have great friends next to you, every day is a good day to celebrate. Let us be honest now, who does not love a party? Have you heard that the most amazing parties take place in the jungle? Brandy and Mr. Whiskers are aware of this for sure. If you want to be invited, all you have to do is to come and play the fantastic Jumpin' Jungle Party game!
To throw the party we are talking about, Brandy and Mr. Whiskers need a few things for their summer bash. Therefore, they have decided to work together and gather supplies for that.
How to play the game
All that they have to do is to climb higher and higher, by jumping from one platform to another and collect the party icons that appear on their way. Every single item will bring you extra points, and you will succeed in having the most fabulous party in the whole jungle.
From time to time, on the platforms, you might find some flying bonuses that help you to get higher once you catch them. You also have to be careful sometimes because some platforms can move, or they can break apart, causing you to fall. You do not want something like this to happen, so jump fast from one to another. If you fall from your platform, you will start from where you stopped but be careful not to lose all your lives.
To move from side to side, you have to use your Left and Right arrow keys, and for jumping, you can use either the space-bar or the Up arrow key.
Do not forget that the most important thing at a party is to have fun, and this is what you should totally do while jumping around!
If you enjoy playing Jumpin' Jungle Party, you might be excited to find out that there are 5 more Brandy and Mr. Whiskers games you can try! The most popular is Jungle Eggventure, and the most recently added is Leaf Boarding