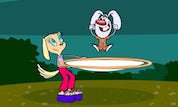 Play Now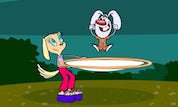 Unfortunately Jungle Bounce is not available on your device. Please try one of the related games instead or visit our HTML5 category.
This Flash game is loaded using an emulator. If you notice any glitches(such as the game getting stuck or music/sound missing), click to play the original version with NuMuKi Browser for the best experience.
About Jungle Bounce Game
Do you remember what a fun thing to do was to jump on a trampoline and bounce all day long as a little child? We bet it was one of your favorite activity and why not, it can still be. Now you have the chance to do the same with Mr. Whiskers in Jungle Bounce game, in a place full of trees and flowers. You can have an extraordinary time doing that with the funniest rabbit in the whole world!
Mr. Whiskers is one of the best bouncers in the jungle, and due to the help of his best friend Brandy, he can prove it to you and to everyone else who lives in the wild forest. We think that if you help him a little bit, he can even become better than he already is and that would make him the happiest rabbit alive.
How to play the game
Brandy has decided to show him that he has all her support, but becoming the best at something is not easy at all. Different types of dangerous things are waiting for him at every corner, and if he does not avoid it, he can fall and lose everything.
Once Mr. Whiskers starts bouncing, he has to pick some beautiful flowers that appear on his way, but he has to be careful. Grey rainy clouds and tree branches can also interfere, trying to make him lose his parachute.
Bounce as many times as you can, but be very careful not to lose more than three chutes because you will lose the game! You can also ride air currents for a speed boost while you move over the floating flowers.
If you enjoy playing Jungle Bounce, you might be excited to find out that there are 5 more Brandy and Mr. Whiskers games you can try! The most popular is Jumpin' Jungle Party, and the most recently added is Leaf Boarding