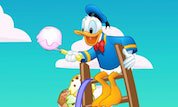 Play Now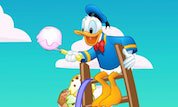 Unfortunately Donald Scoops 'N Ladders is not available on your device. Please try one of the related games instead or visit our HTML5 category.
This Flash game is loaded using an emulator. If you notice any glitches(such as the game getting stuck or music/sound missing), click to play the original version with NuMuKi Browser for the best experience.
About Donald Scoops 'N Ladders Game
A giant ice-cream! This is something we always dreamt of. Donald Duck is trying to build the highest ice cream cone as possible in Donald Scoops 'N Ladders game!
He's sitting on the ladder and holding the ice cream bucket in one hand and the scooping spoon in another hand. The ladders are moving left and right, so you need to predict the right spot when to scoop out an ice cream ball and throw it down towards the cone. You need carefully to build-up the ice cream cone as higher as you can.
You only have five scoops to miss the cone. Build-up your ice cream dreams right away to the sky and help Donald the Duck finish his ice cream mission.
How to play the game
Use your keyboard's space-bar button to let Donald Duck know when you wish him to throw the scoop. You can also use your MOUSE BUTTON 1 instead. You just need to click on Donald Duck, so he'll drop the scoop down.
While building the cone ice cream tower, you will notice that the screen is moving up to the sky. Donald Duck is following up on his ladder, leaving the cone and the ice cream tower always below him so he would be able to drop the scoops down and build more up.
There are many flavors and colors you can choose for the ice cream, which makes this ice cream tower even more fascinating. After you miss the cone for five times the game is over, and the scoreboard will tell you how tall was your ice cream skyscraper.
Try not to miss the cone and enjoy this ice cream game.
If you enjoy playing Donald Scoops 'N Ladders, you might be excited to find out that there are 12 more Donald Duck games you can try! The most popular is Pillow Fight, and the most recently added is Silly Solve and Search