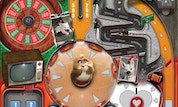 Play Now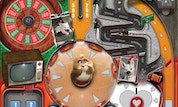 Unfortunately Bolt Pinball is not available on your device. Please try one of the related games instead or visit our HTML5 category.
This Flash game is loaded using an emulator. If you notice any glitches(such as the game getting stuck or music/sound missing), click to play the original version with NuMuKi Browser for the best experience.
About Bolt Pinball Game
Who does not love a good game of pinball? Obviously, everyone does, and Bolt Pinball game is just the perfect way to have fun with your best friends. It is not that different from a classic, Pinball game, but it is more original and fun to play. It also features your favorite characters from Bolt, so just give it a try and get many points!
How to play the game
Keep the DOWN arrow key pressed and afterward release it to hit the ball and launch it on the table. Then use the Left and Right arrow keys to maneuver the flippers. Gain as many points as you can to while keeping the ball on the table for as long as possible. Be careful not to drop the ball because you will lose the game if you do it too many times.
Bolt and his friends are totally in love with pinball, and we think that so are you. It is just like a little colorful world where everything is cool and fun. You can be a part of Bolt's world by playing this awesome game. We are sure that you can beat even your own score if you try hard enough and even surpass your friends.
Bolt Pinball is an excellent way to spend your free time, being one of the games that people always enjoyed at all times. Pinball has always been one of those games that everyone liked to play. Now, having this Bolt version available, it makes the game even more exciting!
Do not waste your time and start playing Bolt Pinball to have a great time.
Have fun and let us know how much you love it!
If you enjoy playing Bolt Pinball, you might be excited to find out that there are 6 more Bolt games you can try! The most popular is Run Bolt Run, and the most recently added is Bolt to the Rescue