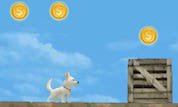 Play Now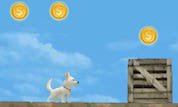 Unfortunately Run Bolt Run is not available on your device. Please try one of the related games instead or visit our HTML5 category.
This Flash game is loaded using an emulator. If you notice any glitches(such as the game getting stuck or music/sound missing), click to play the original version with NuMuKi Browser for the best experience.
About Run Bolt Run Game
Oh no! Penny is in trouble, and the only one who can save her is the beloved Bolt! The only problem is that he cannot do this thing all by himself. Play Run Bolt Run game and help the brave dog to rescue his best friend!
During this mission, your job is critical. Using the left and right arrow keys, move Bolt through all the obstacles. Press the X key to jump and the Z key to attack the enemies who try to stop you from saving Penny. Collect as many coins as you can if you want to achieve a higher score in the end.
How to play the game
Please be careful not to fall, because not even Bolt is invincible and it will cause you to start the game again. When you attack your enemies, try as much as you can to be better than they are and do not let them hit you. If they start hitting you, your health level will decrease, and this is precisely what you don't want to happen
Once you pass a level, there will be more and more things that will try to stop you from getting at your goal. But do not give up! Rescuing Penny is the most important thing right now, and both Penny and Bolt count on you. Not even the moving roofs do not stop Bolt from getting to her, and it should not stop you either.
Show everyone that you can be a superhero and a super friend by following Bolt in this adventure.
Good luck!
If you enjoy playing Run Bolt Run, you might be excited to find out that there are 6 more Bolt games you can try! The most popular is Bolt Rescue Mission, and the most recently added is Bolt to the Rescue