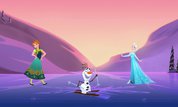 Play Now
About Frozen Holiday Card Creator Game
Do you want to show your beloved ones just how much you adore them? You do not know how to do this, exactly? Wonder no more, because the Frozen Holiday Card Creator game is here to help you out. Be the designer of your incredible gift, and let your closed ones know how much you care.
There is no holiday without a proper card, am I right? And everybody is so bored with the classical cards that only say "Happy Holidays". We all want to create something special and unique, but we do not always know how to do it. Now you have the opportunity.
Everything a beautiful holiday card needs will be right in front of you. All you need to do is to design it. I know it might seem complicated, but we assure you it is quite simple. Grab your wand and be the good wizard of holidays.
Design the best Frozen card!
Do you know who will be here to help you? That's right! The characters from Frozen. You can use them to make your card the prettiest of all holiday cards. First of all, choose the setting of your lovely card. A perfect background is always essential if you want to send the right message.
Then, move on to your favorite character. You can add more than one. Simply drag the image and place it wherever you want. You can also turn it and change its position either way you please. Make Olaf slide on the ice. Or help Anna ice-skate in the courtyard of the palace.
Now that you have created the most of the card make sure you place some props in the right places. Maybe some cold wind or a carrot for Olaf, in case he loses his nose again. It is entirely up to you to make this card look perfect. So you can choose whatever you like.
Just think about the person that you want to send it to and how much they mean to you. Once you are done, save your creation, print it, and make a friend happy with your special gift. It sounds lovely, doesn't it?
If you enjoy playing Frozen Holiday Card Creator, you might be excited to find out that there are 7 more Frozen games you can try! The most popular is Frozen Rush, and the most recently added is Olaf's Summer Sticker Spree