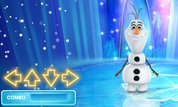 Play Now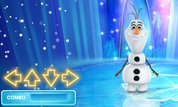 Unfortunately Olaf's Fancy Footwork is not available on your device. Please try one of the related games instead or visit our HTML5 category.
About Olaf's Fancy Footwork Game
Christmas is coming. And Olaf has the best moves that go with a fantastic winter party. He needs a brilliant dance teacher in Olaf's Fancy Footwork game. Only with your help will he be able to perform a flawless routine. So come and be his dancing master before the party starts!
Everything is in the rhythm. So just help Olaf shake it off and have some fun alongside him while you teach him some impressive moves. Listen to the beat, observe the flow, and be the master of your own body. Can you do it? Do you feel prepared? Then get right into it.
Patience and attention are the keys to making everything happen. So do not hurry and do not lose your focus. We know how talented you are. You can do anything that you put your mind to. This time, try dancing and having the time of your life with your beloved Olaf. You will not regret it.
Learn Olaf's routine
To be able to perform correctly, all you need to do is to press the right button at the right time. You will only use the arrow keys.
The rules are quite simple, but they require patience and practice. You must make sure that you hit the right buttons when the moving arrows approach the correspondent boxes.
When the floating arrow signs reach near their corresponding case or get inside it, press the arrow keys to get some points. The closer they are to their patterns, the more points you will get. If you get more right moves in a row, you will create a combo bonus that will increase your level. Like this, you will be able to prove what a great dancer you are.
Win as many points as you can, prove your worth, and have some fun. These are what you need to be successful and help Olaf in his dancing quest. Does it sound interesting? Then wait no longer and start dancing!
If you enjoy playing Olaf's Fancy Footwork, you might be excited to find out that there are 7 more Frozen games you can try! The most popular is Frozen Rush, and the most recently added is Olaf's Summer Sticker Spree