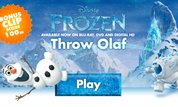 Play Now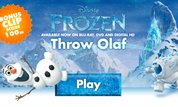 Unfortunately Throw Olaf is not available on your device. Please try one of the related games instead or visit our HTML5 category.
About Throw Olaf Game
Oh, now this seems like it hurts our beloved Olaf a little. Just kidding. The truth is that he loves it. He loves to be thrown as far away as possible into the snow while playing the Throw Olaf game. And you are the only one that knows how to have the best time while throwing Olaf as hard as possible.
The rush of adrenaline will definitely help you make the best throw ever. And the ice monster will be there to support you. It is so easy and entertaining to throw Olaf far from the ice palace. Yet it can be challenging if you did not pay attention.
Are you willing to find out what you need to do? Which are the steps that you will need to follow to make sure that Olaf is thrown further than ever? Do not keep him waiting and start your training right now. You have what it takes to make it.
How to play the game
The one that will do the throw will be a huge ice monster. Your job is to coordinate its every move and make sure that its strength is at a maximum level. You might be wondering how to do this, are you not? Well, it is simple.
You only have to left-click on the screen whenever you consider that the throw is fully charged. Remember that once you click, there is no turning back. Olaf will fly far away solely if the throw is good. So are you going to throw Olaf right into an obstacle? Or is he going to fly above them all and reach a high score? It is entirely up to you.
What are you waiting for? Click on that screen, release Olaf into the air when the arrow turns green and let him fly. You can do it!
If you enjoy playing Throw Olaf, you might be excited to find out that there are 7 more Frozen games you can try! The most popular is Frozen Rush, and the most recently added is Olaf's Summer Sticker Spree