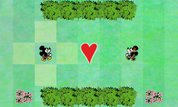 Play Now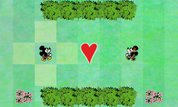 Unfortunately Mickey & Minnie - Parisian Park Puzzler is not available on your device. Please try one of the related games instead or visit our HTML5 category.
About Mickey & Minnie - Parisian Park Puzzler Game
You shouldn't miss the Mickey and Minnie Parisian Park Puzzler game if you're a fan of cute puzzles. We all know that Paris is the city of love. All the lovers in the world go to Paris to spend time together and to have fun. Mickey and Minnie decided that it is time to do the same thing. They wanted a little bit of romance in their life, so they are in Paris now, walking through the parks and enjoying every moment. Would you help them have some great moments?
Minnie and Mickey have to meet in the middle of the park. You need to help them find their way to each other in the shortest time possible. A red heart will appear on the field, in the place where Mickey and Minnie should meet. Let's see how we can help them!
How to play the game
Using your mouse, click on the lighter portion of grass around Mickey to move him up, down, left or right. Be careful because Minnie will always move in the opposite direction. If you cannot make them meet, you can press the refresh button and start the level from scratch.
For each level, you have a goal that you must accomplish. The number of moves should be equal to the goal number of steps that you need to make. Be careful of the obstacles you can find in the park, such as flowers, fountains, small trees, and many others.
At the end of each level, you will be able to see your score. Mickey and Minnie are counting on you that you can help them find their way to each other.
Good luck!
If you enjoy playing Mickey & Minnie - Parisian Park Puzzler, you might be excited to find out that there are 48 more Mickey Mouse games you can try! The most popular is Minnie's Dinner Party, and the most recently added is Mickey's Extreme Winter Challenge