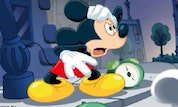 Play Now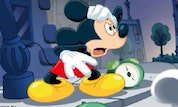 Unfortunately Alarm Clock Scramble is not available on your device. Please try one of the related games instead or visit our HTML5 category.
This Flash game is loaded using an emulator. If you notice any glitches(such as the game getting stuck or music/sound missing), click to play the original version with NuMuKi Browser for the best experience.
About Alarm Clock Scramble Game
Who likes waking up early in the morning? For sure, those who live in ToonTown do not. In Alarm Clock Scramble game, you have to help Mickey turn down all the alarms before they go on and wake the entire town up.
Goofy is trying to deliver some alarm clocks, but clocks keep falling out of his truck whenever he rolls over potholes and bumps. Mickey wants to keep the town sleeping; otherwise, the citizens will be grumpy, and we do not want this thing to happen.
How to play the game
When Mickey appears on the screen, move fast by using the left and right arrow keys! Jump over the things outside using the up arrow key and when you sit next to an alarm clock, press the down arrow key to turn it off and then move to the next one.
Pluto is a great friend of Mickey, and he follows Mickey everywhere. Be careful because if you wake Pluto, he will bark as loud as he can, and the entire town will be awake.
Collect the Mickey hats for extra chances. If you lose all your lives, the town will wake up, and you will have to try again from the very beginning. Be fast, but do not make any sound and you will manage to stop all the alarms in time.
Every level of the game becomes harder and harder but do not worry. Mickey believes in you, and so do we. Good luck and try to let people have a good night!
If you enjoy playing Alarm Clock Scramble, you might be excited to find out that there are 48 more Mickey Mouse games you can try! The most popular is Minnie's Dinner Party, and the most recently added is Mickey's Extreme Winter Challenge