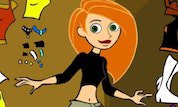 Play Now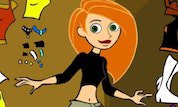 Unfortunately Kim Possible Dress Up is not available on your device. Please try one of the related games instead or visit our HTML5 category.
This Flash game is loaded using an emulator. If you notice any glitches(such as the game getting stuck or music/sound missing), click to play the original version with NuMuKi Browser for the best experience.
About Kim Possible Dress Up Game
If you love fashion and you are also a fan of Kim Possible, then you should have an enjoyable time while playing Kim Dressup game! This is another online game for the fans of brave Kim Possible. This time you have the opportunity to dress up Kim by choosing the perfect outfit you consider to fit her!
Even though Kim is a teenage schoolgirl, her life is full of adventures and dangers. Unlike other teenagers she's not just attending school, throwing house parties and having boring dinners with her parents. Kim Possible is a crime fighter! She has a great responsibility to protect the civilians from dozens of evil plans made up by such professional villains like the mad scientist Dr. Drakkem, Shego, and others.
Luckily, Kim has devoted friends to help her. Ron, Wade, and Rufus are always ready for a new mission. But let Kim take some rest from the endless criminals chasing. Let's not forget she's just a teenage girl. And like other teenage girls, she wants to relax sometimes.
Choose the best outfit for Kim Possible
What are the activities that all the girls like to do in their free time? Of course, shopping and fashion! This game is the perfect chance for you to see Kim Possible in another shape! Make her put away her everyday clothing she's studying and fighting in, and give her some new outfit.
Try on different styles together with Kim. Combine these fancy tops, bottoms, shoes and other accessories. Play with colors and styles as for how you wish. Make Kim a real fashion model! Imagine, how her friends, family and even enemies will be surprised when seeing her in a new look!
Give Kim a chance to strike the villains down not just with her weapons, but also with her stunning outfit.
If you enjoy playing Kim Possible Dress Up, you might be excited to find out that there are 19 more Kim Possible games you can try! The most popular is A Sitch in Time Episode 02: Past, and the most recently added is Mission Improbable