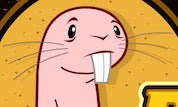 Play Now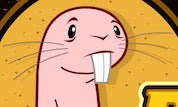 Unfortunately Rufus Snackdown is not available on your device. Please try one of the related games instead or visit our HTML5 category.
This Flash game is loaded using an emulator. If you notice any glitches(such as the game getting stuck or music/sound missing), click to play the original version with NuMuKi Browser for the best experience.
About Rufus Snackdown Game
Remember Rufus? The small rodent pet who helped Ron in other game by holding his parachute? Well, you might remember while trying out this Rufus Snackdown game! It's fantastic, and you get to meet Rufus.
Your primary objective is to find all the stashed corndogs underground! Burrow through the ground to get to them and enjoy the treats. Be aware of the evil robots which are lurking and searching for Rufus to freeze-dry him. The third time you get frozen, the game will end. Avoid the freeze robots at any cost by burrowing around them and dodging them while going through the ground.
How to play the game
Use your keyboard arrow direction buttons to move Rufus during the game (UP, DOWN, LEFT and RIGHT) and use SPACEBAR to make Rufus turbo-spit the corndog sticks in the direction of the robots and destroy them as a fired projectile would.
Be aware that the robots can get out of their hideouts underground by transforming into small robot balls and transparently fly through the ground chasing Rufus. You might want to avoid them when they start the chase.
Also, while above the ground, robots can fire freeze rays which you ultimately need to dodge by burrowing down underground or just run away from them, but you must know that these freeze rays are much faster than Rufus, so trying to outrun them won't work.
Enjoy the corndogs and enjoy playing this game while on your run from the evil freeze robots. Have fun and good luck.
If you enjoy playing Rufus Snackdown, you might be excited to find out that there are 19 more Kim Possible games you can try! The most popular is A Sitch in Time Episode 02: Past, and the most recently added is Mission Improbable