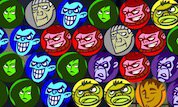 Play Now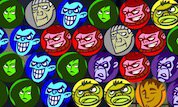 Unfortunately Super Villain Face-Off is not available on your device. Please try one of the related games instead or visit our HTML5 category.
This Flash game is loaded using an emulator. If you notice any glitches(such as the game getting stuck or music/sound missing), click to play the original version with NuMuKi Browser for the best experience.
About Super Villain Face-Off Game
Kim Possible makes fighting villains easy, but it does take some intensive and constant practice to do it successfully! Today, in Super Villain Face-Off game, you get a chance at taking on our notorious villains that Kim fights.
You are playing against eight villains that are trying to stop you from advancing through seven levels. You start with Kim Possible's hairdryer at the bottom of the screen, and our villains are represented by numerous balls arranged in four rows at the top.
How to play the game
Use the ARROW keys to direct Kim's hair dryer that has a villain attached to it, and then you press the spacebar bar to shoot the villain upward. You need to match three or more villains to make them disappear, and you need to clear all the villains to move on to the next level.
If the supervillain you are aiming for is hiding behind another one, you can try and point your hair dryer on the wall and bounce the ball off it to hit your villain! You need to be careful and watch the Danger meter on the right of the screen, because every time you send a villain upwards, a new bar is added to the meter. When the meter is full, the villains drop down a row.
If the villains reach the red line above the hair dryer, the game is over.
Useful tips
To be able to plan your shots, you should pay attention to the next villain in the row which is displayed at the bottom right. Every time you clear a group of villains your score will rise, and if you manage to remove more than three villains at the same time, you get bonus points! Sounds exciting, right?
Each level starts with more and more villains, and you need to plan your shots carefully to clear them all from the screen. Do you think you have the skills necessary to help our friend ward off the Supervillains?
If you enjoy playing Super Villain Face-Off, you might be excited to find out that there are 19 more Kim Possible games you can try! The most popular is A Sitch in Time Episode 02: Past, and the most recently added is Mission Improbable