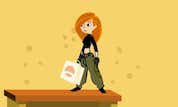 Play Now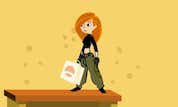 Unfortunately Shopping Avenger is not available on your device. Please try one of the related games instead or visit our HTML5 category.
This Flash game is loaded using an emulator. If you notice any glitches(such as the game getting stuck or music/sound missing), click to play the original version with NuMuKi Browser for the best experience.
About Shopping Avenger Game
Have you heard of Kim Possible: Shopping Avenger game? This time, the teenager secret agent will take you to a new adventure in which you will discover a whole new way of defeating the bad guys, Drakken, and Shego. What Kim needs to do in this game is to shop the items she needs for every mission successfully.
There are five different missions Kim needs to prepare for the Arctic, Desert, Outer Space, Jungle, and Underwater mission. For each one of these missions, Kim needs three different clothing items to finish it successfully.
How to play the game
Use your MOUSE to move Kim around the store and click MOUSE BUTTON 1 to make Kim jump on the shelves so she can climb up and reach less reachable items or to avoid the things she doesn't need. Moving your MOUSE around will make Kim turn around and run towards the MOUSE POINTER. You need to be very careful and cautious about how you move your MOUSE around, just because you don't need any gear for the mission, but you need specific three items different for each task. Otherwise, you'll fail the mission, and the bad guys will make fun of your unsuccessful attempts. We don't want to put Kim in an awkward position.
You have 90 seconds to shop for the items you need and make it worthwhile. Try to avoid the things you don't need for the mission because even if you picked up what you need if you pick the wrong item later, the required item would be replaced with the one you don't need, so be careful what you choose for shopping. Good luck!
If you enjoy playing Shopping Avenger, you might be excited to find out that there are 19 more Kim Possible games you can try! The most popular is A Sitch in Time Episode 02: Past, and the most recently added is Mission Improbable