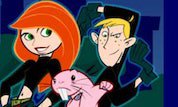 Play Now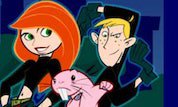 Unfortunately Super Villain Smash Out is not available on your device. Please try one of the related games instead or visit our HTML5 category.
This Flash game is loaded using an emulator. If you notice any glitches(such as the game getting stuck or music/sound missing), click to play the original version with NuMuKi Browser for the best experience.
About Super Villain Smash Out Game
Join another mission with Kim Possible in the Super Villain Smash Out game!
In this classic paddle/ball/goal game, you need to use your paddle to knock the ball away from your goal. Both sides need to defend their own goals as better as they can. But the fun is always in the middle.
How to play the game
The middle of the court is filled with brick walls. Those brick walls hide various icons that bring you many perks during the match. The figures can send you bonus points, or different boosts that you can use to your advantage. Such an example would be the rocket-launcher which helps you to rocket launch your ball straight into the opponent's goal. The icons can also contain negative boosts, such as freezers which will freeze your paddle from moving.
Shrinking or expanding your goal can be good or extremely bad. It really depends on what symbols you collect. There is a list of all the icons in "How to play" section of the game, so feel free to read through the instructions and memorize all the figures and the perks they hold. This way, you'll be able to avoid the ones you don't need and pick up the ones you wish for.
After some time of playing, all the bricks will be gone, and you'll be left alone with your opponent. Your primary objective is to score three goals before your opponent does. That way you'll pass onto the next level, and each new level will bring more fun, and it'll be more difficult than the last. Try not to score into your own goal because that will give your opponent a much easier task of beating you in this game.
Have fun!
If you enjoy playing Super Villain Smash Out, you might be excited to find out that there are 19 more Kim Possible games you can try! The most popular is A Sitch in Time Episode 02: Past, and the most recently added is Mission Improbable