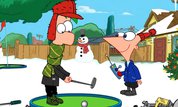 Play Now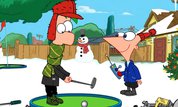 Unfortunately Gadget Golf Winter Holiday Edition is not available on your device. Please try one of the related games instead or visit our HTML5 category.
This Flash game is loaded using an emulator. If you notice any glitches(such as the game getting stuck or music/sound missing), click to play the original version with NuMuKi Browser for the best experience.
About Gadget Golf Winter Holiday Edition Game
Winter holiday has come to the Fletcher home! Hope you are feeling excited because Phineas and Ferb are waiting for you to join them for a fantastic golf match! Join forces with the two super intelligent brothers to play Gadget Golf - Winter Holiday Edition game, and have a lot of fun!
The smart and curious brothers have decided to do a slightly different project this winter holiday, and that is to create their own golf course with your help! We hope that Candace doesn't mind!
How to play the game
Playing the game is very simple! Just use your arrow keys to control the shot. Use your up and down keys to choose your starting point as well as the power of the shooting and your left and right keys for the perfect aim. When you know you are ready, just press the spacebar or the Enter key to hit that ball. You should pay attention to the spinners and try to avoid hitting them because they might send you one step back.
If you wish to get extra points, try to aim and roll your ball over the bonus bumps or bounce your ball off different objects as well as the walls. You should also know that you have only five strokes for one hole and if you use them all up, your turn ends and the tally will be set to six.
You can select either Phineas or Ferb to play with, and you can try to do it alone or against one of the brothers. Ready for it? Let's make the most out of this fantastic game and have a fantastic time together! Good luck!
Other Games in this Series
If you enjoy playing Gadget Golf Winter Holiday Edition, you might be excited to find out that there are 48 more Phineas and Ferb games you can try! The most popular is Hoverboard World Tour, and the most recently added is Titans on the Track